Miu Miu Top Shoes Styles
Miu Miu is a design line by Miuccia Prada, granddaughter of Mario Prada. In 1993, Miuccia took over the family business that was founded by her grandfather. Miu Miu began in 1992, and is Miuccia's second design line. Miu Miu was designed to be the more affordable alternative of Prada shoes and designs, without sacrificing the quality craftsmanship that makes Prada so well-known. Miu Miu is globally synonymous for the stylish designs and finest quality materials in its collections.
Miuccia brings flattering looks that compliment the curves of a woman, while providing an intelligent look. Her designs are inspired by her own wardrobe choices. The collections of Miu Miu have consistently become must-have instant hits.
There have been many famous faces that have represented Miu Miu. Chinese actress Zhou Xun, singer/actress Lindsay Lohan, actress Kirsten Dunst, and now French singer Vanessa Paradis have all been "the faces" of Miu Miu. Actress Katie Holmes will be the new face for the Spring/Summer 2009 collection.
Miuccia runs the family business with her husband, Patrizio Bertelli. Miuccia handles the creative areas, while Patrizio handles the business aspects. It is a partnership that Miuccia believes is what helped Miu Miu shoes flourish. Patrizio's financial skills have also helped the Prada design house itself grow.
---


Miu Miu Patent Shoe Boots



These shoe boots are made from black anthracite patent leather, which provides an illuminate effect. They have an almond shaped toe and covered platform. These shoe boots feature an elastic panel at the vamp area. They have a 5 inch heel. These shoe boots provide its wearers with endless wardrobe applications. They can be worn for work, shopping, an intimate meal, or even a special occasion, and they will still look fantastic!
---
Miu Miu Paillette Covered Platforms
These sandals are definitely something to look at. They are made from black patent leather. Gold paillette embellishments cover the black background of the toe cover and back, as well as the anchor points of the straps. They have a rounded peep toe and a contrasting black strap on top, which has a gold toned buckle closure. The 5 inch heel and platform are covered in contrasted black patent leather.
---
Miu Miu Paillette Embellished Pumps
These dazzling beauties are made from a charcoal gray colored leather, with matching paillette embellishments that cover the entire shoe, from the toe to the entire heel. These pumps have a contrasting bronze colored insole. They also have a 4 inch heel and almond shaped toe. These are definitely the formal shoes to have. The can be worn with just about any colored evening gown or formal wear, using the right accenting accessories.

---
Miu Miu Suede Shoe Boots
These low height shoe boots are made from gray suede. They feature an elastic panel on one side, and a zippered closure on the other side. The 4 ˝ inch heel is also covered in gray suede. These shoe boots have a cutout in the arch area, providing a more open feel. They also have a rounded toe. These shoes might be sassy, but take care when the weather is moist.
---
Miu Miu Pearlized Paillette Pump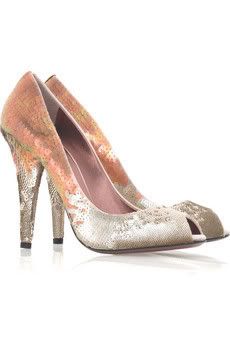 These sexy formal shoes are made from a cream colored background with a pearlized paillette detailing. Starting at the arch and stretching to the back, the paillette becomes accented in blush coloring. The 4 inch stiletto heel is also covered in pearlized paillette embellishments. These shoes have a smaller peep toe opening. There are so many color combinations that these shoes will be compatible with because of the pearlized nature of the paillette.
---
Miu Miu Python Ankle Boots
These fabulous ankle height boots are made from a bronze colored, simulated python-style leather. They have a 2 inch heel and side zippered closure. They also have an ultra pointed toe. The color and style of these boots almost present a western feel in the design. The short, stumpy heel allows their wearers to be comfortable without sacrificing style. Wear the with jeans or khakis, or even a skirt or dress.
---
Miu Miu Metallic Banana Flats
These extremely comfortable, ultra hip flats are made from metallic coloured leather. The foot opening has dainty coloured edging. These banana flats, named as such for their banana shape, feature a rounded toe adorned with a pyramid brooch accent on top. These flats are the ultimate for versatility. The can be worn with anything across your entire wardrobe spectrum, from jeans to work wear to evening wear, and even lingerie.
---
Miu Miu Lightning Bolt-Heel Boots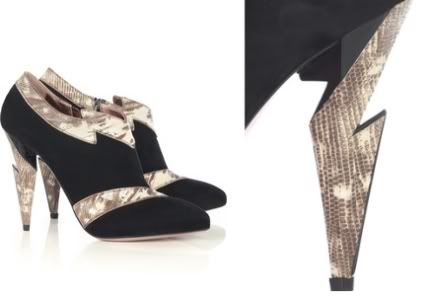 At first glance, you would think that these are a beautifully designed pair of ankle height boots. Closer inspection reveals a visual shock...the heels are actually shaped like lightning bolts! While many people would scoff at the idea, the shaped heels add to the overall beauty of the shoe. These black suede ankle boots are detailed with contrasting snakeskin leather along the top and at the bottom of the vamp area. The bolt shaped heel is the same contrasting color as the accents. They have a side zippered closure and a 5 inch heel.
---
Miu Miu Suede Boots
These ankle height boots have a three tone contrasted theme.

The background is charcoal gray colored suede.

The strap detailing across the whole shoe alternates between light gray suede and black suede in crisscrossing design.

The ankle strap is charcoal gray suede and has a silver buckle closure.

These boots have an almond shaped toe.

The 4 inch heel is covered in charcoal gray suede.

These boots create a mesmerizing focal point.