Top Choo Shoes Styles
Jimmy Choo is a London based designer.He had early exposure to shoe designing and shoe making he was born to a family of shoemakers.He learned to make his first shoe when he was at the young age of eleven. Choo shoes designs began with his first line in 1986. In 1988, he gained international recognition from a feature spread in Vogue magazine. In 1996, Choo opened his first boutique in London, which he co-owned with fashion stylist Tamara Mellon. This company provided mass-marketed Choo designs.In 1998, Choo branched out to the United States.
Choos shoe designs are well-known as elegant and highly imaginative.He favors crystalline colors, such as aqua, on luxurious fabrics, such as satin.He has maintained designs that are both beautiful and comfortable – Choos main philosophy.All of Jimmy Choos couture shoes are handmade with an explicit attention to detail.
Choo sold his share of the company that he co-owned with Mellon in 2001, he still designs shoes, concentrating on his couture line.He is expected to open 50 more couture boutiques between 2008 and 2009.
Jimmy Choos stylish and trend setting footwear has been seen on many famous faces, such as Angelina Jolie, Hilary Duff, and the late Princess Diana.
#1 Jimmy Choo Atlas Patent Leather Sandals
These sassy Jimmy Choo shoes are all about the sexy straps, and there are a few.They are made from an iridescent taupe colored patent leather.Each of the seven straps has a fully functional gold toned buckle closure, which provides the best fit for each womans different foot shape.There is a 5 inch matching covered heel, and a closed back.The toe rest is also covered in the iridescent patent leather.
---
#2 Jimmy Choo Toyah Leather Sandals

These curvy sandals are made from a cherry colored leather.The curved straps are a contrasting elaphne faux snakeskin leather.They have an arched open toe and heel strap.The ankle strap has a gold toned buckle closure.The 4 ½ inch heel is covered in a cherry leather contrasting leather.These sandals are definitely sexy enough to flatter any dress in your wardrobe, no matter what the color is.
---
#3 Jimmy Choo Jasmine Patent Sandals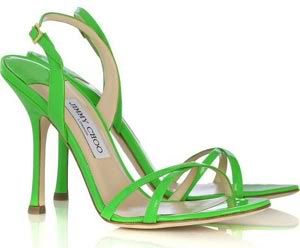 These sandals are one of the Jimmy Choo must-haves.They are simply designed, yet the possess the feminine touch that Jimmy Choo adds to all his designs.These sandals are made from black patent leather with two crossed toe straps.The heel strap has a gold tone buckle closure.The 4 ½ inch heel is also covered in black patent leather.These sandals will match everything, whether it is day wear or formal wear.
---
#4 Jimmy Choo Myrtle Jeweled Sandals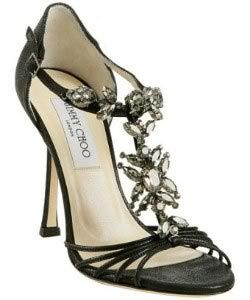 These sandals are almost too pretty to wear.They are made from black metallic suede, with four thin toe straps.There is a closed back with a 4 inch stiletto heel.The t-bar is the most notable detail of this sandal.The t-bar detail features a flower motif made from crystals.This design extends to a portion of the buckled ankle strap.They are not nearly as extravagant as some of Choos other jeweled shoes, so its safe to say that you can wear them for just about any special occasion.
---
#5 Jimmy Choo Elazer Metallic Sandals

These gold mirrored metallic leather platform Choo shoes will definitely make you the center of attention at any gathering you attend. They feature an oval shaped peep toe opening and a 5 inch heel.The back strap has a matching gold toned buckle closure.There are matching gold leather accents on both the toe rest and the heel rest.With the right accessories, these shoes are the perfect addition to any ensemble.
---
#6 Jimmy Choo Tier Leather Shoe Boots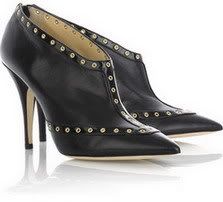 Heres a sexy twist to a new classic.These low boots are made from black leather, and have a sharply pointed toe.These boots have patent leather trim with eyelet accents across the toe, up the vamp, and along the top.These 4 inch heeled boots have a back zippered closure.These boots can be a phenomenal addition to your favorite worn in jeans, or even an ankle length skirt.
---
#7 Eliza Patent Sandals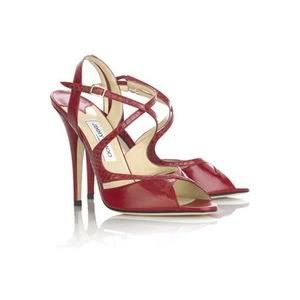 These amazing Jimmy shoes are made from red petrol patent leather.The red color has a bit of iridescent quality, making them oh so delicious!The ankle strap has a buckle closure.There is a wide cutout at the vamp area.The most striking visual aspect of these sandals is the contrasting black patent leather 5 inch heel.The recessed peep toe provides the finishing touch.These shoes are the it in glamor meets flavor.
---
#8 Peony Leather Boots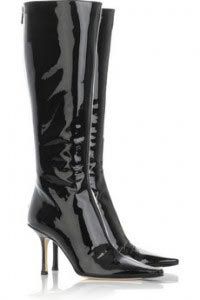 These black patent leather knee high boots are absolutely wonderful!They feature a pointed toe and a seam that runs down the front.They have a slender 3 ½ inch black patent leather heel and a back zippered closure.The shorter heel height allows wearers to experience a greater level of comfort.There is even a Jimmy Choo engraved zipper pull for that extra oomph.These boots are chic and feminine, without sacrificing versatility.
---
#9 Glenys Platform Sandals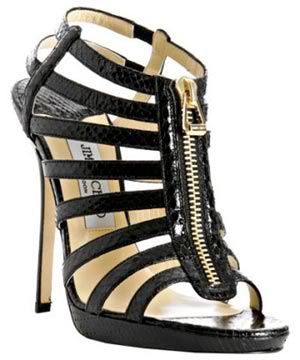 The Glenys is an ultra chic and very strappy platform sandal.It is made from black leather.It has a rounded open toe and 4 ½ inch thin and flat heel.There is a notable detail it has a zipper closure located on the vamp.These sandals have the power to take your from work to play very quickly.The versatile color ensure that this sandal can match or accent any wardrobe choices that you make.
---
#10 Lumiere Pumps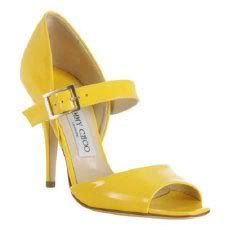 These pumps are very similar to the Jimmy Choo Elazer.Although the peep toe is the same as the Elazer there are a few other difference.The color choice is one.These pumps are made from bright yellow patent leather.They also have a wide strap that goes across the top of the vamp area, with a gold toned buckle closure.These pumps have a 4 inch yellow patent leather covered heel.They are a modern style that is destined to become a classic.