Alexander McQueen Top Picks


Alexander McQueen began his fashion designing career designing and making dresses for his sisters, in order to help his struggling family. This was the point where McQueen realized that he wanted to be a fashion designer. From 1990 to 1992, McQueen was a tailors apprentice with Anderson & Shepard and Gieves & Hawkes. During his apprenticeships, he learned and mastered six valuable pattern cutting techniques.
In 1996, Alexander McQueen became the Creative Director at Givenchy. McQueens first collection that he designed for Givenchy was self admittedly horrible. McQueen was most notorious for his unconventional and extravagant runway shows, with one such show having an insane asylum setting.
In 2001, McQueen ended his career at Givenchy. He wanted the ability to have unrestricted designing. Selling half of his own design company to Gucci, during the same time, allowed Alexander McQueen to continue his own line and still maintain the creative independence he desired.
McQueens most notable endeavor is his womens shoe designs. They have quickly become one of the most sought after brands available along side the likes of Christian Louboutin and Manolo Blahnik
Alexander McQueen Python Peep Toe Pumps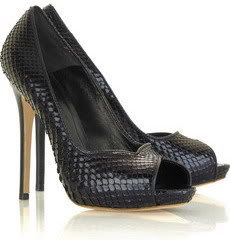 These pumps are made from black iridescent leather with a simulated python texture. There is a feminine scallop edge detailing at the bottom of the vamp area. They have a triangle shaped pee toe and a hidden platform. The 5 inch stiletto heel is covered in solid black leather. These are a classically designed peep toe pump that you just have to have, theyll go from day to night with a simple wardrobe change.
---
Alexander McQueen Button Trim Boots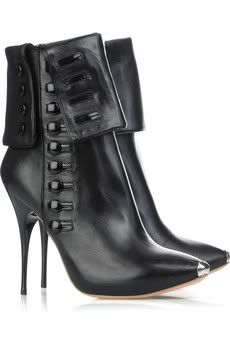 Make a fashion statement with these luxurious ankle height boots. They are made from supple black leather. There is a silver sap accent on the pointed toe. They feature button detailing on the side, from the arch to the top. The fold over design at the top ensure that these boots will compliment even the shortest of skirts. The 5 inch stiletto heel is covered in matching black leather. There is a side zippered closure opposite the button detailing.
---
Alexander McQueen Stamped Leather Pumps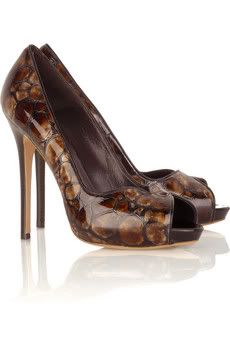 These pumps have an eye-catching design. They are made from brown croco-style leather. They have a triangle shaped peep toe opening and a covered platform. There is an asymmetrical cut detailing on the bottom of the vamp area. They have a matching covered 5 ½ inch heel. These ultra high pumps are a simply delicious addition to your collection of shoes theyre calling you...will you give in?
---
Alexander McQueen Brogue Detail Pumps
These pumps are made from a lovely merlot colored leather. They have a lace-up detailing on the vamp area. They feature a 4 inch matching heel and a square toe. These designer womens shoes can go from jeans to evening wear in a simple transition. You can wear them for coffee and shopping with friends, as well as dinner in a fancy restaurant. These pumps are likely to become a McQueen classic!
---
Alexander McQueen Crystal Embellished Platforms
These amazingly detailed platform pumps are designed to make your evening memorable. They are made form a rich red satin. The whole shoe is covered in crystal accents. The lower vamp area has a delicate scallop edging for extra femininity. The triangle shaped pee toe opening and red patent leather covered 5 inch hell heel put the finishing touches on this dazzling creation. Youre sure to catch the light and twinkle!
---

Alexander McQueen Lace-Up Boots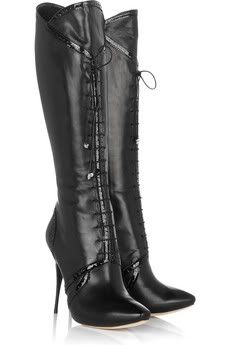 These knee high boots are made form black leather. They have black patent leather trim. They also have lace-up detailing that runs from the bottom of the vamp area all the way to the top of the boot stopping just below the knee. The lace-up detailing is finished with a tie that features skull accents. These boots have an ultra pointed toe and 5 inch stiletto heel. The inside zippered closure makes putting on these boots very easy.
---
Alexander McQueen Bow-back Ankle Boots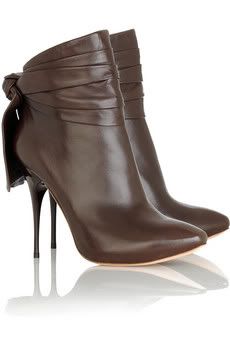 These boots are made from soft chocolate colored leather. They feature a scrunched leather detailing on the top that extends to the back where it is finished off with a bow. These lovely short boots have a 4 ½ inch stiletto heel and side zippered closure. This is another Alexander McQueen shoes creation destined to be ranked among the classics. They are plain enough to wear during the day, but feminine enough to wear for an evening out.
---
Alexander McQueen Suede Ankle Boots
These ankle height boots are made from soft balk suede. They have a pointed toe and feature patent leather trim detail. There is a 4 ½ inch black patent leather covered heel and hidden platform. There is a side zippered closure. While these boots are stunning and versatile, if you suspect that there is rain in the forecast, bring a safer pair of shoes to change into to avoid damage.
---
Alexander McQueen Square Toe Pump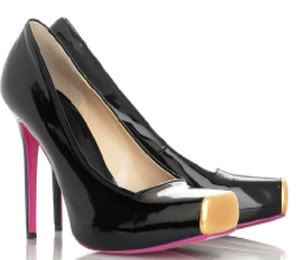 These classic pumps offer amazing contrasting detail. They are made from black patent leather. The tip of the square shaped toe has a gold toned accent. The underneath of the sole and inside of the heel are made from contrasting fuchsia patent leather. The outer side of the 4 inch heel is covered in black patent leather. There is a concealed platform. This style is also available in python finish or red contrasting detail instead of fuchsia.