Celebrities & Their Christian Louboutin Shoes
Christian Louboutin shoes have been the number 1 choice for a whole host of celebrities the world over. It is pretty rare to see a movie premier or an awards show without spotting a pair of Louboutins on the red carpet. This is not to say they are exclusively for glitzy ceromonies as they look as beautiful worn with a pair of jeans as they do with a cocktail dress.

Amongst the famous names loving Louboutins are Cameron Diaz, Jessica Alba and Hilary Duff.
Angelina Jolie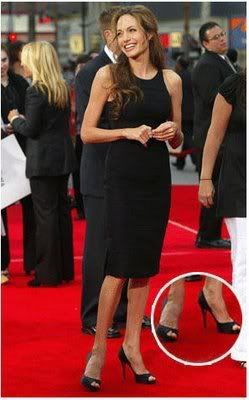 Angelina Jolie on the red carpet recently looking stunning in a pair of black
Christian Louboutin Peep Toe Shoes

.




This isnt the first time she has been seen wearing Louboutin shoes to a high profile event.
---
Jessica Alba seen wearing
Christian Louboutin Iowa Pumps
at an MTV award ceremony.
The famous red soled heels compliment the red dress giving a classy and stunning finish.
---
Madonna
They dont come any bigger than Madonna!





Seen performing on a recent tour wearing

Christian Louboutin studded spiked heels.

There was a huge waiting list for these shoes and it is rumoured that Madge was one of the names on that list!





These are beautiful shoes that i think you would agree suit Madonna perfectly.
---

Hilary Duff
Hilary Duff was seen here on three different occassions wearing the same Christian Louboutin shoes, Shock Horror!! What ever happened to not being seen in the same thing twice? It could be that she has three pairs though!
Just goes to show again the versatility of Louboutin heels, it could be a night out or a shopping trip, either way their is no better shoe
Click Here To Shop For Christian Louboutin Shoes


Or Go Back To Womens Designer Shoes Home